What's your preference?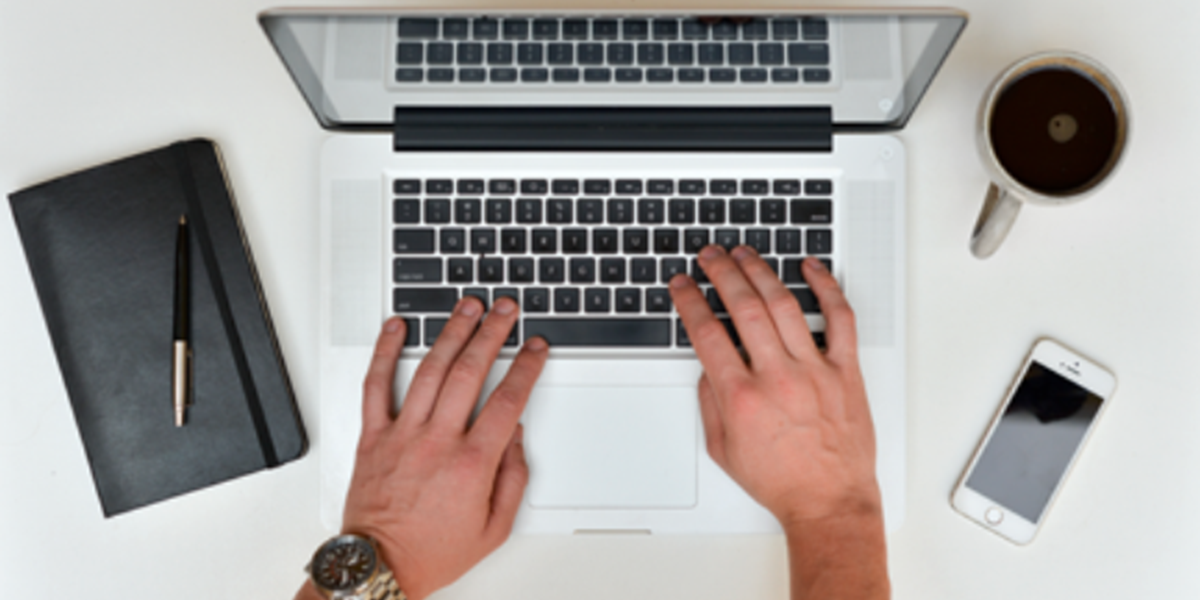 email marketing is one of the most widely used and most effective ways for sport & leisure organisations to communicate with their visitors and fans. The total number of worldwide email accounts forecast to be in use by 2019 is a staggering 5.5 billion, and, the new GDPR, which came into force in May, dictates a greater emphasis on data management meaning there's never been a more crucial time to hone your email marketing strategy.
To have success with your email marketing it is imperative to build and cultivate an engaged audience. The most common reasons for a lack of engagement, and subsequent unsubscribers, are the frequency and relevance of the content. So why not let your subscribers control these factors? Implementing an email preference portal puts your visitors and fans in control regarding the emails they receive from you.
Implementing the following process can help you effectively manage your email subscribers and maximise your engagement:
Stage One: Sign Up
The first step is to collect data and grow your audience. The bulk of new contact data will typically come from your ticket and merhcandise sales but you can also supplement this using a simple and easy to use web sign-up portal. 

Embedded within an i-frame on your corporate website,  a fully integrated sign-up portal can feed data directly to CRM creating a new contact within the system. We would recommend that the data capture form is limited to the minimum number of mandatory fields with a view to finding out more at a later stage. 
At Green 4, we work with sports clubs and visitor attractions to build fully integrated web sign-up portals which feed data directly to CRM and facilitate easy tracking of new sign-up volumes. The portal can facilitate database growth through organic sign-ups from your website traffic or through promotions and competitions which incentivise data capture.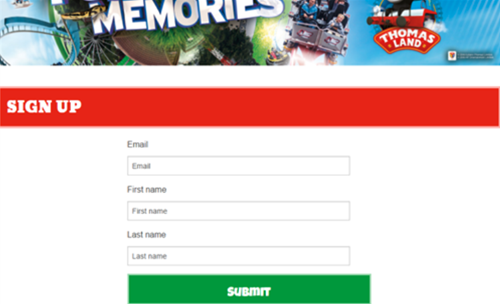 Stage Two: Welcome Email
An automated 'welcome' email should be the next step in the process. This email will confirm the subscription and provide your latest recruit some assurance as to how you will communicate with them. It should be personalised where possible and provide a call to action for subscribers to provide more contact data and confirm their email marketing preferences.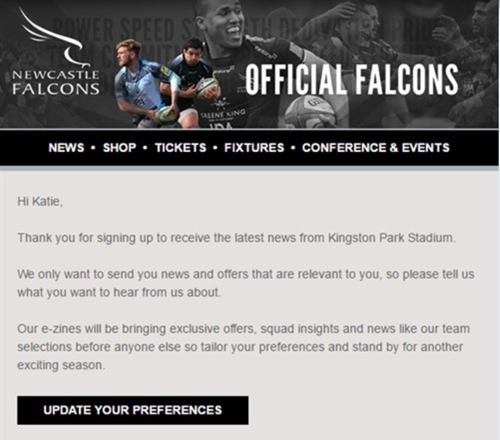 Stage Three: Email Preference Portal
Start off on the right foot with your subscribers by asking them what specific topics or content they would prefer to receive emails regarding.
A content based email preference portal allows you to create clearly defined segments at which you can target your products and services. Once subscribers have made their preference selections, this information is then held on their contact record within the CRM system for easy use in marketing campaigns. At any time the contact can update their preferences using a pre-defined link which should be included in your email templates as standard best-practice.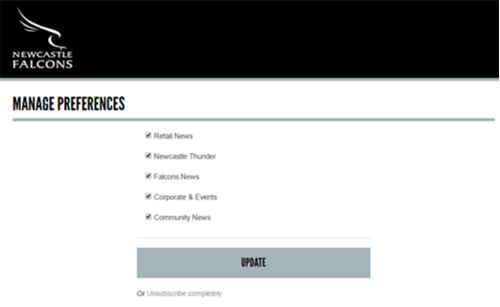 Our research shows that approximately 60% of email subscribers in sport & leisure are inactive. By taking the simple steps outlined above, and implementing a welcome programme supported by a preference portal, you can tailor your content and increase the engagement of your subscribers!
At Green 4 we enable our customers to utilise data to build improved fan and visitor relationships and create compelling digital journeys across the sport, leisure and attraction industries. Our combination of an innovative single platform, CRM led, technology solution and range of specialist services will empower you to put your fans and visitors at the heart of your business. As your partner, we are committed to your success and focused on delivering results using cutting edge, insight led strategies.